At Casco Bay Furniture, we are often asked about the history of the Chesterfield sofa. Here is a bit of that history.
The word "Chesterfield" is a term used today by many in North American and particularly in Canada to describe what most of us commonly refer to as a sofa. But the term has much older origins. It is generally thought that the Fourth Earl of Chesterfield, Lord Philip Stanford, who lived from 1694 to 1773 and died at the age of 79, commissioned his furniture maker to build a leather sofa that would not wrinkle the clothes of a gentlemen sitting upright, but in comfort.
To achieve this and at the instructions of the Earl of Chesterfield, the sofa was to be deeply tufted with a rolled arm and constructed so that the height of the back and arms were uniform.
As you can imagine, the sofa was a success in British high society, and shortly after, it became a symbol of luxury, success, and "good breeding."  The Chesterfield soon became a fixture in the Gentleman's Clubs throughout Europe and the British Empire, even finding its way into the private cabins of British schooners and man-of-wars.
It is rumored that Horatio Nelson had one on his flagship, The HMS Victory, which was launched in 1765 and commissioned in 1778. Admiral Nelson, also known as 1st Viscount Nelson, was famous for his service in the Royal Navy, particularly during the Napoleonic Wars. Though one of the most famous admirals in history, he also liked his "comforts."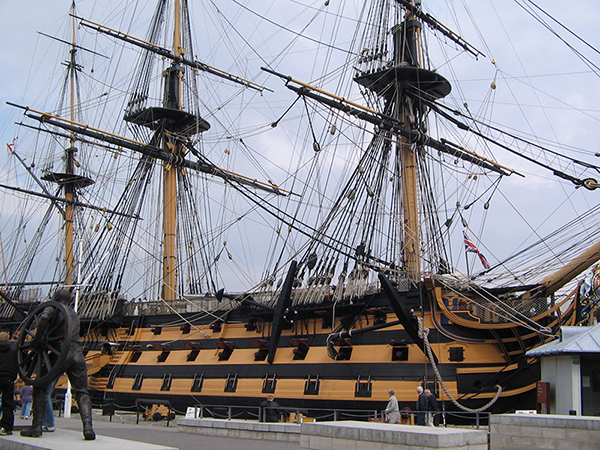 Sigmund Freud, considered to be the founding father of modern psychoanalysis, began his practice in 1881 at the University of Vienna and was said to have had a Chesterfield in his study where his patients reclined during their sessions.
Over the past 250 years, the Iconic Chesterfield sofa has graced the halls of kings and queens, the rich and famous. It has become a symbol of class and comfort. The Chesterfield has a colorful past, as you can see, and remains today as one of the most popular sofas in history. In fact, in the past several years, the Chesterfield sofa has had resurgence, revered for its timeless elegance and good looks.
The Chesterfield sofa is difficult to build. There are very few craftsmen left who know how to build these complex sofas. That is why you only see a scattering of manufacturers that offer the Chesterfield. At Casco Bay Furniture, we feature 11 Chesterfield sofas and chairs, in a variety of lengths and depths, ranging from the Classic Chesterfield to Mid Century Modern Styling.  At Casco Bay Furniture, all of our Chesterfields have 5/4 solid hardwood framing, mostly maple and true 8-way hand-tied hand-knotted springs. Constructing a Chesterfield with an 8-way hand-tied hand-knotted spring is not easy, due to the depth of the frame cavities. Many manufacturers do not offer this type of construction, which is considered the Gold Standard in furniture construction, and something you should look for. Coil Spring construction was first used in the Chesterfield sofa  around 1850 and many of these sofas are still around today, over 160 years later.
Hope you found this interesting. Please call us if you have any questions about our Chesterfield sofas.
– Richard Parker
Related Articles: