John can you tell me how you started building custom made furniture?
Well Richard I started 44 years ago I think it was in 1972. My wife Penny and I opened a shop in Southern California. I was always an Artisan at heart. Before long I started making hand carved mirrors and folk art. With the encouragement of family and friends I began to enter my work in local art shows and before I knew I was traveling the country with my creations. I was fortunate enough to win many awards at these shows.
My wife Penny and I decided that we wanted to get away from the hustle and bustle of California yearning for a simpler way of life. After much deliberation we picked up and moved to the Blue Ridge Mountains of North Carolina. The pace had to be slower in North Carolina and we found that it was. Shortly after arriving I opened a shop and shortly after that we had a son, Devon, my pride and joy.
I began to follow the teachings of the master craftsmen Jame Krenov and Sam Maloof. I studied the technical aspects of wood and furniture making. I soon specialized in building custom sideboards, hutches and tables.
John when did your son Devon join the business?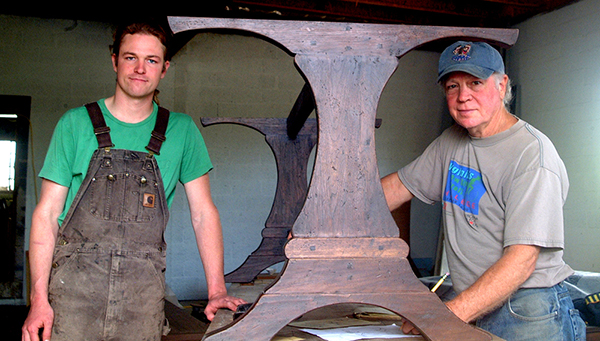 Devon joined the business in 2006. As you can imagine Devon spent a lot of time in the shop as a child looking at the lumber, the machinery and our craftsmen. He attended college, studying , design, photography and business. However he always knew where he belonged and what he wanted to do. Devon just loved the tables. And I am pleased to say that Devon has been the inspiration behind many of our designs such as the "Distressed Wood Trestle Collection featured at Casco Bay Furniture, similar to the Salvaged Wood Trestle Collection at Restoration Hardware but ours is made right in our shop in North Carolina.
As a matter of fact Devon is now working on several other pieces for Casco Bay Furniture and their customers.
What more would you like to say about your furniture?
The custom furniture we create are truly one of a kind, and well built enough to last for generations. We craft each by hand. We feel we are building truly heirloom pieces.
Can you tell me something about the lumber you use?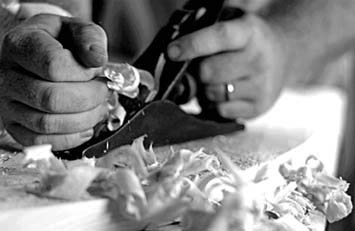 The lumber used in our pieces is all sourced locally in North Carolina in the rough from local suppliers. We use solid Pine, Maple, Cherry, Oak, Walnut and Even Tiger Maple. Each piece of lumber is carefully selected by myself or Devon or one of their craftsmen. We also mill each piece in our shop, by hand. We try to find lumber in the widest width so that we can make the optimal use of each piece.
Each table is hand planned and sanded, creating a one of a kind look. We utilize Mortise and Tennon joinery along with metal corner brackets and machine threaded inserts. A six step finish is applied creating a finish protected against water, heat and wear and tear. With proper care this finish should last for years.
Well John I can see you take a lot of pride in your work.
All of us at Casco Bay Furniture appreciate what you have built for us and our customers. Quite frankly we feel that your product is unsurpassed in the industry and quite frankly always stops people in their tracks.
Thank you, Richard.
Thank you, John.
Related Articles: