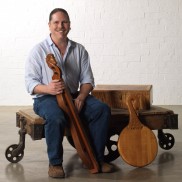 We are often asked, "Who makes the leather furniture for Casco Bay Furniture?" Most retailers in the furniture industry tend to stay with large, well-known manufacturers to build their furniture. We chose to have our furniture built by two specialty manufacturers for several reasons. To begin with, we like to have a close personal relationship with our factory owners and our in-house designer, D Ross of Hickory North Carolina.  This relationship is difficult to obtain with a large manufacturer. As a result, our leather furniture is built to our standards and specifications which is one of the highest standards in the industry.
At Casco Bay Furniture, we build a product of exceptional quality. One of the best in the industry, in our opinion and in the opinion of many.
There is also a substantial cost advantage to having our furniture constructed in our specialty factories. Essentially we have cut out the middlemen and we have also cut out the substantial cost of running a large furniture factory, which ultimately is reflected in higher prices to the consumer. Large manufacturers can have hundreds of retailers as part of their account basis. This means hundreds of catalogs, sales tools, administrators, trade shows (the international trade show in High Point, North Carolina can cost a manufacturer hundreds of thousands of dollars per year and there are shows all over the country), salesmen and women, infrastructure, vehicles etc. At Casco Bay Furniture, we do not sell other retailers, we do not have fancy offices and we do not publish catalogs and as a result, we have eliminated all of these costs.
Our business model makes it possible to sell high end, high quality furniture at very affordable pricing.
We offer something unique in the industry, On Site Inspection. Our design, manufacturing, warehousing and transportation are located in Conover, Taylorsville, and High Point, North Carolina.  To ensure that every customer's order is made to our standards, we  have an on-site inspector with 35 years of experience who visits our two manufacturers every Tuesday and Thursday, maintaining an office at each. He works with order entry, production, upholstery, and our two factory owners. He also inspects each piece before it goes out the door.
Our On Site Inspection ensures that every customer's order is made to our standards.
Our factories. As I said, at Casco Bay Furniture we  have partnered with two factories, each with an owner who produces our leather furniture. A portion of our product-line is produced in Conover, North Carolina by a  specialty manufacturer of which we provide the majority of their business. The owner of this factory grew up in the business and has a great deal of expertise in the industry. He is also a patterning expert. He can produce a sofa from a picture if needed. This gives him the ability to easily customize a sofa, which for most manufacturers is a time consuming and very expensive proposition. For example, on most of the sofas he builds, you can reduce the size of the sofa for $499. You can add up to 12″ of length for $499 or 24″ for $999. Expect to pay as much as $300-$400 an inch elsewhere, for this type of service, for comparably built sofas. Our factory owner is hands on. His day is spent on the factory floor supervising the construction of the furniture they are building. He or his brother personally selects every hide of leather used in upholstering our sofas. His background is in high-end furniture, built to the gold standard (to be discussed later). Prior to building our furniture, he built the furniture for Arhaus and Ralph Lauren.
The owners of our factories grew up in the business and have a great deal of expertise in the industry … especially in the construction of high-end furniture.
A portion of our leather furniture product line is manufactured by Jonathan Wesley Furniture of Taylorsville, North Carolina. The owner of this factory, Tim Shook, also grew up in the business. His family owned a high-end upholstery manufacturing company, called Taylor King, considered by many to be the premier upholstery manufacturer in the country. Taylor King was founded in 1974 by Rachel and Herman Shook. Tim was the plant manager for the company. Taylor King is also located  in Taylorsville, NC. Tim and his family sold the business to Hancock and Moore, one of the leading manufacturers of high end leather upholstery in the country, located nearby in Hickory, North Carolina.  According to Tim the new owners must have seen a lot of expertise in our family business.
Tim received his training with this leading manufacturer and eventually became the plant manager for this company. Several years later, he decided to branch out on his own, opening Jonathan Wesley Furniture. Coincidentally after leaving, Tim's brother took over where Tim left off as the plant manager for Taylor King where he remains today. At Jonathan Wesley Furniture Tim specializes in high-end fabric and leather upholstery.
The pattern maker is the single most important person in any upholstery factory.
All of the upholsterers Tim employs today were his former employees. Tim's pattern maker, in charge of product development is Roger Jones. Roger has over 40 years experience in the industry having worked at Vanguard Furniture for 27 years, the last eight of which he was the Director of Product Development. Vanguard is a well known high end furniture manufacturer.  Tim says he has some of the most talented people in the industry.  As a result he was quickly singled out in the industry for making a superior product.
Tim's company has the unique ability to reproduce a replica of any piece to the exact specs of the original. Have an antique carved sofa that has seen better days that you would like to replace or another special upholstery project? Please give us a call. In addition to making our leather furniture, Tim subcontracts for another high-end manufacturer (to remain nameless) when they need more production.
Our product line is built to the gold standard at both of our facilities.
What is the Gold Standard?  The centerpiece of the gold standard is 5/4 hardwood framing and a true 8-way, hand-tied, hand-knotted spring.
5/4 Hardwood Framing. The owner of one of our factories prefers his framing to be a mix of  5/4 Solid Maple and some 5/4 Poplar. The owner of our other factory prefers 100% 5/4 Maple. Only a handful of manufacturers still use 5/4 hardwood.
True 8-Way, Hand-Tied, Hand-Knotted Springs. This is a four layered spring with steel banding across the base and large 10 inch coil springs compressed to about 6 inches. Here again, very few companies employ this spring system due to the expense of building it.
Cushioning at Casco Bay Furniture. We offer as many as six different seat cushion options and three back cushion options. A quality cushion is very important. All of our cushions are down-blend wrapped cushions with foam or spring-down cores. We offer five cushions with Ultracel foam cores. Ultracel foam is considered to be one of the best cushions available.
Leather Quality. 99% of the leathers we sell at Casco Bay Furniture are full aniline dyed leathers. We offer this in 107 colors and 7 leather styles. This type of leather represents the top 95-98% of leathers sold in upholstered furniture. Most of our leather comes from the world famous tannery in Bassano Del Grappa, Italy called "Finco Spa." Other high-end manufacturers will also sell a mix of semi aniline and pigmented leathers. We don't. We just sell full aniline, as we know the furniture will look better and last longer.
Experience. I already mentioned the experience of our factory owners, let me tell you about our craftsmen at Casco bay Furniture. The upholsterers, the spring up men, and the sewers have decades of experience, and many were sample makers. They all came from high-end companies. I hope you have found this interesting. If you have any further questions please give me a call at Casco Bay Furniture at 207-272-0557.
Sincerely, Richard Parker
Related Articles: