We would all like to hire a decorator to assist us in decorating our home, but sometimes it's not in the budget. A qualified decorator can cost from $100 to $200 an hour. At Casco Bay Furniture Review I decided to interview Eva, an old acquaintance of mine. Eva is probably one of the most artistically talented individuals I have ever met and certainly one of the best decorators I know.
Eva, how long have you been involved in interior design and decorating?
I have been in this business longer than I care to admit, but if the truth be known, I started in this business in 1978 soon after I graduated from school where I majored in fashion and home decor. I suppose that's 34 years if my math is correct. Over the years, I have been in all phases of the business including commercial and residential. I have also been on the manufacturing and wholesale side. My true love is residential where I have worked with thousands of clients.
How can the average person design a beautiful home or even a room without a lot of expense?
Maybe I am shooting myself in the foot, but it's really not that difficult. In fact, anyone, with a little time and effort, can do some things that really make a room beautiful.
Here's what I would suggest:
To begin with, give yourself some time; don't try to do it overnight. For example, set aside six months to decorate your home. Then start with one room.
The first thing you need to do is to create an accurate template of the room on a piece of graph paper. Layout the room to scale with all the doors, windows. If there is a fireplace, place that there and so on. Cut out pieces of paper to represent the furniture and it is here that you can start to move the furniture around to try different settings.
Stimulate your creativity and find examples of what you like.
My next suggestion is to subscribe to a few good decorating magazines. I personally think House Beautiful is the best magazine out there for ideas. I also like Coastal Living, which although coastal in nature as you would expect, still has a lot of good ideas. On the contemporary side, I like Veranda and Metropolitan Home. I also like Architectural Digest, but many of the ideas here are too high-end for most of us, but they do have good ideas. You may also find some other magazines that appeal to you. Don't just buy one magazine, but several to get a comprehensive view.
Every month when the magazines arrives, cut out the pictures that you like, and if you have the space, lay them out on a table or place them in a portfolio. This may sound like a lot to do, but actually its easier than you think. You just have to start.
Choosing Paint Colors.
When redesigning a room, the starting point is choosing the color on the walls. House Beautiful is a great place for this. This magazine is extremely good with colors. As you read through the magazine, you will see many great ideas when it comes to colors and usually it will indicate what the paint color is. Take your pictures and color ideas to the local paint store. The paint store is a great resource. Many of the people in the paint department have been doing this for years and are very talented. They can help pick your color.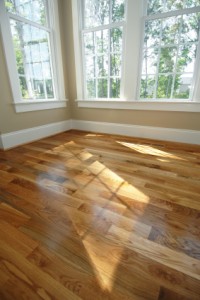 Flooring.
Next in line is the flooring. Here again find flooring in your decorating magazine that appeals to you. My number one rule when it comes to flooring is, if you plan on staying in your home, go with hardwood floors. They look great and, in the end, will give you the most resale dollars. There is nothing better than a wood floor. If you can't afford a solid wood floor, go with a laminate. There are some great looking laminates. I like wood floors in the living room, dining room and kitchen, although many people prefer tile in the kitchen. Oftentimes people will choose carpet for the bedroom, as its cozy.
Furniture.
Next to consider is your furniture. As you are looking through the magazines you will find a style and look that appeals to you. In the living room and family room, slip covered upholstery is always a good choice and leather if you really want wear and durability, and especially if you have kids. From looking at your web site I can see that you feature leather  and slip covered furniture at Casco Bay Furniture.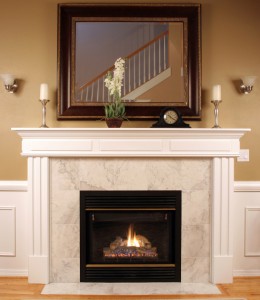 Eva, what about the walls, artwork, mirrors and such?
One of my main decorating rules is that every room in the house should have a mirror. It makes a room look bigger. My next rule: nothing should match. I know at Casco Bay Furniture you carry Uttermost in home decor. Uttermost has one of the best and most comprehensive presentations in the industry, covering all categories and their prices are very reasonable.
Tell me more about the "mismatch rule".
Richard, the one exception to the "mismatch rule" is that you might want a pair of matching lamps for beside nightstands. However, if you are getting two lamps for the living room, pick two different lamps. The same with artwork and with mirrors. Artwork is personal. I love art work and my walls are covered. I know I have too much art work, but that's me. A piece of metal artwork is easy, a painting is more personal.
Eva, what if I've done all this and I am still confused or uncertain?
Richard, here's what to do. If after you have done all your preparation and you can spare $300 or $400, hire a decorator for a few hours. Either invite the decorator to your home, and if that's not possible, take your portfolio and your template to your decorator. You will amazed at what a qualified decorator can do in a few hours.
Eva, what if I can't afford the $300 or $400 for the decorator?
Here's one of my favorite suggestions. Everyone knows someone who has a flair, whose house looks like a million dollars. Call that friend and ask for their help. Take them to lunch and bring your portfolio. Chances are that person loves to decorate. They'll be flattered and eager to assist you.
Any final thoughts on how to layout or design your room on a budget.
Like anything else in life, try it and get started, most of us have more talent than we realize. All it takes is a little time and effort. You'll be surprised on the good results you can have.
Related Articles:
None available at this time...