The other day it occurred to me that, although I had been in the furniture business for a long time, I could probably learn more about cushion construction…and it may be true for many of you. I decided to contact Lawrence Sweeny, owner of Larin Cushion Company of  North Carolina.
Lawrence how long have you been in the cushion business?
I've been in the business for 40 years. I started in the cushion business at Hickory Spring Manufacturing Company, a company that is a leading supplier of foam, springs, and other furniture related components. After three years, I left the company and formed my own company, catering to a portion of the business I thought was not being served well in the industry… the high-end business and specialty manufacturers. We make a quality product and rarely do we have a cushion failure. I have made several million cushions over the years and we may have had only 4 or 5 returns a year.
I'd like to ask you a question we are often asked, how should a cushion feel?
The truth of the matter is, as a society, we are no longer doing a lot of heavy labor as we did in the past. The average American weighs 20-25% more than they did years ago. This has to be taken into consideration in the construction of a cushion. The cushion has to be able to sustain this additional weight. A cushion will lose firmness over time. I always recommend that you start with a cushion that is a little firmer, that's softens with use. If you start with a cushion that's too soft, you will be replacing that cushion.
How are seat cushions and back cushions in sofas different?
In the high end market, the seat cushion has a high quality foam core surrounded by a comfort layer of down and feathers, and they can also add some fiber. The back cushions have a mixture of down, feathers and fiber. We also do well with spring down seat cushions, which have springs inside the foam core.

How do you measure the quality of foam in the seat cushions?
Cushions are generally measured by two values. The density of a cushion, which is the mass of weight per cubic foot of polyurethane foam. Foam that has a density of 1.8 foam, for example, contains 1.8 lbs of foam per cubic foot and foam that is 2.5 foam would have 2.5 lbs of foam per cubic foot.
The second measurement is the IFD (the Indentation Force Deflection). The IFD is the feel of the cushion, if you put your hand on the foam and push down. The lower IFD will sit softer. The higher IFD will sit firmer.
Each batch of foam is tested by chemists two ways. They cut a sample piece of foam out of the 'bun" 15 inches by 15 inches by 4 inches thick. To arrive at the IFD, the following two tests are completed with the foam sample. First the foam is compressed by a machine with a 10 inch plate by 25% or 1 inch. Then another testing machine is used called 'Squirming Erma". This machine compresses down and twists as it goes down. This is repeated 20,000 times. The IFD from the first test is repeated so you know how well the foam will hold up.
Foam typically used in furniture ranges from an IFD of 21 to 35 and a density of 1.6 to 2.5 but can range up to 6 lbs per cubic foot and as low an IFD of 15.
I just shipped an all down cushion to one manufacturer that had an IFD of 15. They wanted a very soft, plush seat. I thought it had no definition. They called it plush. I called it sloppy, but that's what they wanted. I suppose it is a high end look that some consumers like.
Ultracel Foam Seat Core
Richard, one of your customers at Casco Bay Furniture just ordered an Ultracel cushion core with a density of 2.5 lbs and 25 lbs of compression. This is an extremely good cushion. The components of the Ultracel cushion come from Bayer (the same people who make Bayer Aspirin).
This is the Mercedes Benz of cushions. Ultracel holds up better than other foams. For example, a 1.8 Ultracel foam will hold up better than 2.5 regular foam. Ultracel has a much better load or support factor. It will last longer and it's more comfortable.
How is the foam actually made?
Foam is poured as if you were pouring a cup of coffee. It's poured in a liquid state of indefinite length 4-5 inches thick. Agents are added to the foam to make it rise. It's cut into buns like a loaf of bread. I buy 110 inch buns about 40-46 inches tall. I use Prestige Fabricators, as they produce a very uniform product. Our foam has a soybean base.
What about the comfort layers of the cushion?
We cut the bun into the required sizes and then we cover the foam into what you have called the comfort layer. Typically, on the seat and back cushion, we use a mix of down feathers and fiber depending on the order. We do this with a machine that blends the mixture. The feathers have a quill, and down has more of a cluster. Feathers come in grades. We use only the shorter feathers less than 3 inches. We buy our down from Downlite International of Cincinnati which is where the down in the cushions  of the leather  upholstery of Casco Bay Furniture comes from. Downlite carries a very high quality product. The highest end goose down is not used in sofa cushions, it is used in arctic wear. It has a lot of loft and it would be a waste to put this is a sofa cushion.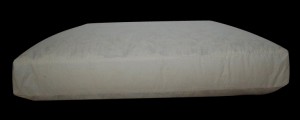 What's next?
The comfort layer and the foam core is covered in a good quality down proof ticking and shipped off to the customer. The cushion core is then covered at the upholstery manufacturer in a leather or fabric seat or back casing. A quality cushion provides comfort, but more importantly, a happy customer.
Lawrence this has been very interesting. I never knew there was so much involved in making cushions. I guess we all take them for granted.
I hope I have been of some help to your understanding of the cushion industry. Please call me if you or your readers or anyone at Casco Bay Furniture has any further questions.
Thank you Lawrence.
Related Articles: