Often when people go out to buy a new sofa or chair, their first consideration is how it looks and how it feels. Yet, I have found that buying a sofa is kind of like buying a car. If you want something that is going to last over time, you need to know what is "under the hood."
I put a call into David, owner of a small furniture manufacturing factory, to find out just what makes a great sofa.
David, tell me about your background in building upholstered furniture.
I was born and raised in North Carolina. My first job just out of school in the early 70's was at a furniture factory and I learned the business by working from the ground up. I've done just about everything you can do in an upholstered furniture factory. I was quickly recognized for my ability in product development, pattern making, and design. I can build any sofa from a picture, a sketch, or an idea.
My expertise has been in the production of high-quality leather furniture, which I have been building for over 25 years. Our factory is a relatively small, high-end specialty factory. I enjoy building high end pieces and we pride ourselves in being craftsmen. Each piece is built by hand, one at a time, and each piece is a little different. In our factory we employ true eight-way, hand-tied production techniques and all that goes along with building a quality piece.
What makes a great sofa in your opinion?
There are five major aspects to pay attention to in constructing a great leather sofa: 1) the kind of wood the frame is constructed with and how the frame is constructed, 2) the kind of spring system, 3) how the cushions are constructed, 4) the leather that is used, and 5) how the piece is tailored.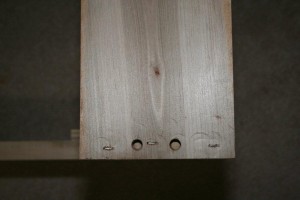 Let's look then at the frame construction. How do you do it?
In our factory and for Casco Bay Furniture we only use 5/4 inch solid hardwood frames…mostly maple, with some poplar. Each frame is double doweled with heavy corner blocks and double stretchers across the rails and this is what you should have in your high-end sofa. Our lumber comes from one supplier, Associated Hardwoods of Granite Falls, North Carolina. The lumber used is Certified Appalachian Hardwood and is Verified Sustainable under the Green Initiative. (On occasion, lumber is used from Maine, Wisconsin, and Washington State.)

If we are looking for a high-end product, what should we watch out for?
The least expensive frame today is made of plywood and this is not good. And some plywood frames are worse than others. You can buy 5/4 inch plywood, but most companies use only ¾ inch or 7/8 inch plywood. I believe that ¾ inch or 7/8 inch plywood is just not strong enough to use in building furniture.
Some factories use a mix of poplar, maple, and plywood. I think this can also be a problem. When plywood is used on the arms, it is not good. For example, if someone sits on 45 inch arm on an extra deep sofa that is made out of plywood, it will break.
Companies will also mix hardwoods and softwoods. We recently repaired a hardwood frame from another manufacturer that had a pine rail across the back of the sofa.
Some companies will even refer to hardwood plywood as "hardwood." Basically, that's not true and it's misleading. If you drill and dowel plywood, you will weaken the layers. While hardwood is rigid, plywood flexes. Did you know you can't burn plywood in a woodstove? That's because burning plywood gives off deadly gas from the chemicals contained in it.
Where are your frames made?
At Casco Bay Furniture our frames are made in machine shops. We have one in-house for custom orders and we use two others outside machine shops for our standard sizes and styles. Both shops are in nearby in North Carolina and they make frames for other high-end manufacturers, such as Stickly and Lee Industries.
Tell me about spring systems. What do you recommend?
In my opinion, an 8 way hand-tied system is the best system you can have and the only one I like to build and the only one we build for Casco Bay Furniture. This means that each spring is tied 8 ways, side to side, front to back and on both diagonals. One of the main advantages of the 8 way hand tied spring is it that it rides evenly with the cushion. The cushion and the spring absorb your weight in tandem, so there is not excess wear on the cushion.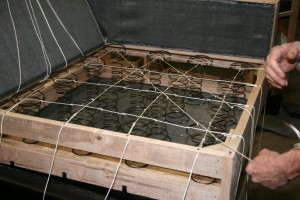 How do you build your 8 Way Hand Tied spring system?
We build ours the old fashioned way…by hand. To begin, we turn the frame upside down and apply a layer of 24-40 Propex material which comes in bluish black, silvery while and black. We apply this across the frame. Then we take hardened steel banding and apply it on the bottom of the frame in a series side to side and front to back. We then turn the frame over. Each of our hardened coil springs is then set on the crosshairs of the steel bands. Each spring is then attached to the Propex by a series of clamps called Klenchitz. It is then hand tied with cord applying 130 lbs of pull on each spring which slightly compresses the spring. The springs are attached to the rails by "spring up nails". Over 30 yards of high quality cording is used in the construction of every sofa. The cording is exceptionally strong to the point that five woven cords could tow a vehicle. To my recollection we have never had a broken cord. We purchase our cording from Ludlow the premier supplier of cording. Our "spring-up" man has been building 8 way hand tied, hand knotted springs for  40 years.
Spring Edge vs. Hard Edge?
David I recently read a discussion concerning the merits of spring edge (soft edge) vs. hard edge. Which one do you use and what does this mean? At  Casco Bay  Furniture we use a hard edge and I'll tell you why.  The edge is the part of the frame directly under the front of the seat cushion (under your knees).  The area is also referred to as the front rail. Years ago many manufacturers lowered the front rail by about 3 " and then applied a row of springs or "lip coils" along the top of the front rail. I like to call them scissors springs. A spring edge is a bit softer when you sit on the furniture, if you like to sit on the front of the cushion, but this also creates  problems in my opinion and in the opinion of every other manufacturer I know. Within 2 or 3 years the "lip coils" will squeak and shortly thereafter they start to sag. To this you can add excess wear on the leather covering the front rail and a tendancy for the person sitting on the furniture to "washboard" or slip forward out of the seat.  Your furniture will last longer and look better with a firm edge, but we can do it either way. In the past 20 years everyone has switched to the firm edge. A few still do spring edges on chairs.  If a customer wants a spring edge we can build their sofa that way. But we don't recommend it.
Who makes your springs?
At Casco Bay Furniture we use two companies. Piedmont springs who has been in the business for 4 to 5 generations and Hickory Springs, both North Carolina companies.
Are there something's to watch out for when researching the spring system of a sofa?
Yes, you have to be careful. Not all 8 way hand tied systems are built the same way. I have repaired 8 way hand tied systems built by others, and found in some cases 4 way hand tied. And many times, the cording is looped, not tied.
What methods do other factories use?
The poorest quality spring in my opinion is a Flexolator deck; not to be confused with Flexsteel's Flexolator Spring. The Flexolator deck is essentially a huge pad with a wire edge which is attached to the frame with small springs. This is really for low end furniture and is basically a cheap shortcut.
Next is Pirelli Webbing, which is an elasticized cloth strung across the frame. This works okay in small round dining chairs where it is difficult to do much else, but in my opinion, it is not suitable for building sofas. I do know companies that use this and claim that they don't have problems, but I would never use it.
Then there is a Sinuous Spring (no sags) which is also okay in the lower end of the market. There's a place for it, but not in building high end furniture. A sinuous spring is essentially an "S" shaped wire stretched across the frame which is then clipped and stapled to the frame. It is held in place with three rows of cording or wire which runs across the sinuous wire going front to back and side to side. Sinuous springs are heat treated for strength, but over time and due to this, they will break. I have personally repaired several for friends and acquaintances. In the past 35 years, I have only seen one Eight Way Hand Tied Spring break.
Some "no sags" are better than others. It's all a matter of how you apply the springs and if you use enough of them. Don't get me wrong. As I said, there is a market for them. One of the problems with no sag is the bounce of the spring. The no sag has more travel than an 8 way hand tied spring, so as you sit on the cushion the spring sinks further, causing more stress on the cushion. The cushion and the spring are not working in cohesion.
What about a drop in spring unit?
There are two types. A drop in spring unit and a drop in pocketed coil. Personally, I have never used a drop in coil. It is essentially a wire box made outside the sofa with springs clipped into the box. Companies will even tie the tops of these springs with cording and say that they are 8 way hand tied, but again, this is misleading. One of the problems with a drop in unit is that it's not built into the frame. It doesn't add anything to the strength and structure of the frame and spring.
What's a pocketed coil?
A pocked coil is basically a series of small coils covered in fabric glued to the base of the deck of the frame. Thomasville Upholstery tried this technique in 2005 and 2006, but gave up on it as it wasn't accepted by their retailers. Essentially, the frame is turned over and a polypropylene deck is stapled to the base of the frame. The frame is turned over and glue is sprayed on the deck. The pocked coil unit is then laid in place over the glued deck and glued into place. The pocked coil is then covered with material also referred to as decking. Your seat cushion is set on top of the decking.
Pocketed coils were designed to go into cushions or in spring backs. I think a pocketed coil will break down over time as there is nothing supporting your body weight. Personally, I think a well-made sinuous spring system is preferable to a pocketed coil system.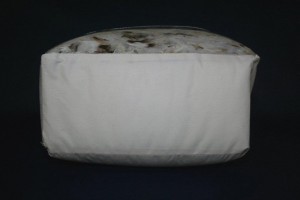 What do you use for cushions?
At Casco Bay Furniture we use only high quality cushions from credible suppliers; in fact there are only two that I use, Larin Cushion Company of  North Carolina, who has been in the business for 37 years, and Premium Fabricators. They also supply companies such as Sherrill, Taylor King and Old Hickory Tannery. We use a high resiliency, foam core cushion with a fiber wrap, which is then encompassed in a down and feather blend wrap. Cushions are measured by foam density and compression. We can order any cushion a customer requests. The cushions we use are Soy Based, friendly to people and the environment and part of the Green Initiative. If you are looking for the very best we do offer an optional "Ultracel" foam core with our down blend seat cushions. Lately I have noticed that most of your customers at Casco Bay Furniture have upgrade to the "Ultracel" cushion. It only cost a little more but I think it is worth the investment.  Casco Bay Furnitureis offering three upgraded "Ultracel" and down blend cushions. "Ultracel" 1.8 density foam with a 21 IFD, "Ultracel" 2.5 density foam with a 25 IFD , and an "Ultracel" Spring Down cushion. In a nut shell here is how I would describe these three cushions.
Tell me about your "Ultracel" Cushions?
All of Casco Bay Furniture's down wrapped cushions have a foam core. How good the foam is will determine how good the cushion will sit and how long it will last. The density of the foam refers to how much a cubic foot of foam weighs. 1.8 density foam means that 1 cubic foot of foam will weigh 1.8 lbs, but keep in mind 1.8 density "Ultracel" foam is better than 2.5 regular foam.
The IFD refers to the hardness or softness of the foam. Most foams used in furniture have an IFD that ranges from 15 to 40. 15 being very soft and 40 being very firm. Casco Bay Furniture's 1.8 density "Ultracel" foam down wrapped cushions will have an IFD of 21. This cushion will be a plush cushion and very durable. You will sit a little higher on the cushion sinking partially into the cushion. It will take a few months to break in. When you first get your sofa it will feel firmer until it breaks in. Casco Bay Furniture's2.5 density "Ultracel" foam and down wrapped cushions will have an IFD of 25 . It  will be extremely durable and a little firmer. This cushion would be excellent if the cushion was going to get very heavy use or in families with larger people. Here again allow a few months for the cushion to break in. Finally Casco Bay Furniture has an "Ultracel" Spring Down cushion. This cushion is similar to the "Ultracel" 1.8 lb 21 IFD cushion discussed above except that in this case the foam is hollowed out and each foam core has 72 coil springs contained within the foam. Large cushions may have twice as many coils within the cushion. This cushion is an excellent cushion. This cushion has more ride and you will tend to sink deeper into the cushion. Many Spring Down cushions in the market place do not have "Ultracel" foam. The springs used with the cushion have a wide range of options. The springs chosen for Casco Bay Furniture were selected after months of testing. The "Ultracel" Spring Down cushion also has a break in period.
The four seat cushions offered by Casco Bay Furniture were all carefully selected after much discussion and sampling with the owner of Larin Cushion Company, Mr. Lawrence Sweeney, a legend in the cushion business with over 40 years experience making cushions. Casco Bay Furniture's "Ultracel" and Spring Down cushion is the same cushion Mr. Sweeney has in his own home. If you are looking for something else in a cushion Casco Bay Furniture can also custom order your cushions to suit your taste.
What about your back cushions?
The backs are a mix of fiber, feathers, and down. Again, we can special order any cushion requested by the customer. A word of caution, if you start with a cushion that's too soft, it won't hold up over time. Cushions do have a break in period. In fact, we test our cushions by a crushing machine to see how they will wear.
Some companies will buy foam that is out of spec. When foam is produced, it should fall within a range of specifications set for that foam, but there are many variables that can vary and effect how the foam comes out, such as the humidity. Sometimes the foam that is produced isn't what it is supposed to be. This inferior foam is not within spec and is sold at a discount and many companies will buy it. We never buy this type of foam.
Where do you get your cotton?
We get our cotton used in upholstering from three local companies: Hendricks Batting, Hickory Springs and Cameo Fibers.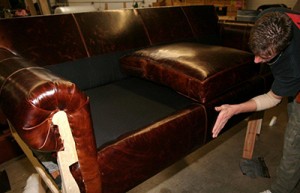 Who upholsters your furniture?
In a way we are lucky and unlucky being located in North Carolina. There are a lot of highly qualified craftsmen available in the immediate area with many years of experience upholstering furniture due to the fact that many factories have closed over the years. I hire older upholsters, most of who had been sample makers from high end companies. I feel our upholsterers are some of the best available. They take pride in their work.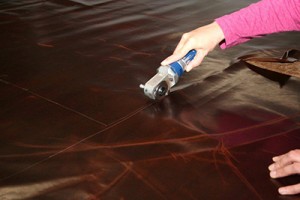 What about the people who select and cut the leather?
I personally select or review every piece of leather used in the making of our furniture and all the furniture we make for Casco Bay Furniture. We look at every hide carefully and match the leather for consistency of color and texture for every order. We look for the cleanest hides and reject any that are not up to our standards. The patterns are laid on the hides and cut by hand. A sofa for example can have 30 patterns or more. Leather is a product of nature and, especially if you are selling high quality full aniline dyed leathers, you are going to have marks and scars. We cut out any markings that we feel are objectionable. If a customer wants a perfect hide, they need to consider corrected leather or vinyl.
What are the most popular styles you build for Casco Bay Furniture?
That's easy, the deep seat sofas such as the Manchester and the Madison. The Manchester compares to the Restoration Hardware Lancaster sofa and the Madison compares to the Restoration Hardware Maxwell sofa. Restoration Hardware makes the Maxwell sofa and the Lancaster sofa in a variety of sizes and we do as well. In fact we can make just about any size. Restoration Hardware makes the Lancaster sectional and the Maxwell  sectional in a variety of configurations and we also make these. They also make the Lancaster leather sofa  and the Maxwell leather sofa in fabric. We also build these and other deep seat sofas for Casco Bay Furniture. If you have any questions about these sofas you can call Casco Bay Furniture directly at 207-272-0557.
Is your product made entirely in North Carolina?
Yes with two exceptions. The leather for the most part is from Italy and the metal clips, called Klenchitz that hold the springs to the deck. There are no US manufactures of Klenchitz.
Is there anything else you could do to your furniture to make it better?
Honestly no. I have been doing this for 25 years. We build a high end product. I built the leather sofas for Ralph Lauren and we built them the same way.  We don't take any short cuts. There is nothing else I can think of that we can put into our product it to make it any better.
Related Articles: