What you should know about our Madison leather sofa featured in Brompton Cocoa
The Madison Sofa has a classic rolled arm design made popular by several Catalog Companies. Compare our Madison Leather Sofa to the Restoration Hardware Maxwell Sofa and similar sofas from other Catalog Companies and other retailers. Our version of this sofa, The Madison is handcrafted in a state of the art manufacturing facility in greater Hickory, North Carolina. The owner of our factory has been making high quality upholstered furniture for over 35 years. Prior to owning his own factory he made leather furniture for Ralph Lauren among other famous brands.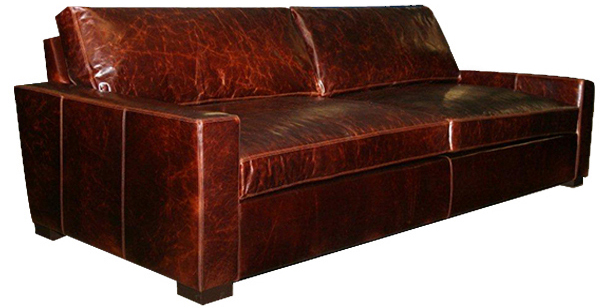 Casco Bay Furniture's Madison sofa is available in 64 different pieces with numerous sofa lengths, sectionals, ottomans and sleep sofas. We also make the Madison in custom sizes. It is available in 2 seating depth with overall depths of 42" andd 46" with corresponding seating depths of 25" and 30". We also offer three finish options and a choice of nailhead trim options.
So what's different about our Madison sofa? How does it compare to Restoration Hardware's Maxwell Sofa?
We have improved on a good thing. Our Madison sofa is handcrafted exclusively in greater Hickory, North Carolina. The quality leather furniture capital of the world. It is never imported from China where the Restoration Hardware Maxwell is produced. In addition to the quality features of a North Carolina produced product, domestic hand crafting makes it easily serviced should the need ever arise, should you accidently damage your furniture. Our sofas are never subject to the harsh conditions often found in overseas containers. Overseas containers often contain chemicals such as DMF, Dimethyl Fumarate, used to prevent mold.
Our frames are made of 5/4 Appalachian hardwood, not hardwood plywood commonly used in about 98% of the sofas sold in the industry yet referred to and sold as hardwood frames. Also be on the look out for Engineered Hardwood frames, really just another fancy name for plywood. Plywood contains glues and chemicals not found in hardwood. 5/4 hardwood is also healthier than plywood as 5/4 hardwood is a natural product. RH uses a plywood frame. Plywood frames are made by a computer called a C&C router and are then assembled like a jig saw puzzle. 5/4 hardwood frames are made in machine shops and are built to last for many decades with proper care.
Our spring construction is built to the Gold Standard, which is True 8 Way Hand Tied Hand Knotted Springs. This spring system is a complex spring system taking hours to build. The system is comprised of four layers, with steel banding across the base of the frame (like a checkerboard). The easiest way to test a sofa to see if it is really True 8 Way Hand Tied is to reach under the sofa and see if you feel the checkerboard of steel bands found under the sofa, usually covered by a dust cover. This spring system is built to last for many decades with proper care. Restoration Hardware for example, uses what is referred to as a drop in coil spring system on their Maxwell sofa. What exactly does this mean?
The Drop in Coil System used in the Restoration Hardware Maxwell Sofa is essentially a pre-manufactured spring system. It typically resembles a wire box with springs tied and clipped to the premanufactured unit that is floated on top of their hardwood plywood frame and screwed into place. This pre-manufactured system is not built into the frame and as a result, does not contribute to the torsional strength of the frame and spring. It can be installed in a matter of minutes.
No Sag, Sinuous Spring suspensions set into hardwood plywood frames, (but again referred to as hardwood frames) are typical of the spring construction used by other Catalog Companies making Maxwell styled sofas and most of the other Maxwell Look-A- Likes found in the industry. A sinuous, no-sag spring system is no more than an s-shaped wire stretched across a frame every 6″ to 9". A Sinuous Spring is also hard on your cushions as it creates a firm surface that only moves in one direction, up and down.
We offer 5 upgraded cushion options on our Madison sofa for a nominal fee. These include our softest cushion, called a Reflex cushion which is a combination of Ultracel soy based foams of varying softness with a down blend wrap. Ultracel 1.8 21 foam with a down blend wrap for a medium softness and Ultracel 2.5 25 with a down blend wrap for a firmer cushion. We also offer two version of our Ultracel Spring Down cushion which is our most popular cushion. Ultracel Soy-based foam is a high-quality foam lasting substantially longer than regular foam. Restoration Hardware's Maxwell Sofa, other catalog companies and other  retailers do not offer offer these options. Our cushion cores are all domestically produced in Hickory NC. Our cushions are never imported from China.
And saving the best for last, in spite of the quality features found in our sofa, cost less than the Maxwell and most of the other Maxwell Look-A- Likes and includes more such as no sales tax and a free in home delivery in most states. And our sofas are delivered by a private delivery service. The same drivers that leave NC will set up your furniture in your home. This type of delivery does not have Freight Transfers in terminals. The sofas stay in the same spot on the truck during the entire delivery process. The result is damage free deliveries. Not impossible but rare.
The Original Brompton Cocoa.
The most popular leather sold on our Manchester sofa is Brompton Cocoa which we stock in our factory, leading to quicker production times. It is important to note that we buy the original Brompton Cocoa from Bassano Del Grappa Italy. There are many Knock Offs of Brompton Cocoa. None of them compare to the original yet many retailers do sell copies of this leather. As a rule most of the copies are not as thick and do not develop the patina the original does and do not have the same appearance. Brompton leather produced in Italy must also conform to the high-quality standards of the European Union. They can't use formaldehyde for example in tanning these leathers. Formaldehyde is commonly used in the tanning process in other countries. We do offer free swatches where you can compare this leather for yourself and make your own conclusions.
Our Madison sofa is also offered in a wide variety of full aniline dyed leathers from the world's leading supplier of high-quality leather, Moore and Giles but we also offer the Madison sofa in fabric in a Customers Own Material.
We also make Maxwell sofas and sectionals with all with all their quality features in a rolled arm version called the Manchester which you can compare to the Restoration Hardware's Lancaster Sofa.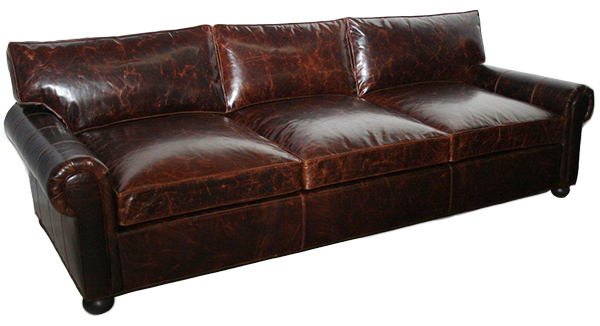 Related Articles: